Via Fox News:  Foxnewspolitics Twitter Feed Hacked
FoxNews.com's Twitter feed for political news, FoxNewspolitics, was hacked early Monday morning.

Hackers sent out several malicious and false tweets claiming that President Obama had been assassinated. Those reports are incorrect, of course, and the president is spending the July 4 holiday with his family at the White House.
Well, isn't that charming?  Certainly it is not exactly a nice Fourth of July greetings.  And if you can't trust tweets, what can you trust?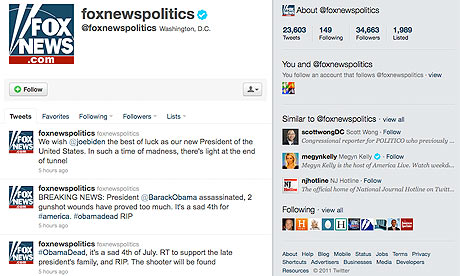 Think Magazine (which I have never heard of prior to now, I don't think) has a link up that claims to be an interview with the hackers.  However, their servers are being overwhelmed at the moment, so the piece inaccessible.
The Guardian (which also provided the screen shot above) reports more details:  Hacking of Fox News claimed by group with links to Anonymous
A group loosely connected to the hacker collective Anonymous says it took control of the Fox News Politics Twitter account to claim that President Obama had been assassinated while campaigning in Iowa.

The Fox News Politics account – @foxnewspolitics – was used to put out a number of fake tweets saying that President Obama had been shot in the head and died, and that vice-president Joe Biden had been installed in his place. The tweets went out at around 2am Pacific time (5am EST, 10am BST). Obama is in fact thought to be in Washington at the White House, where his schedule shows he is due to give a speech in the Rose Garden at 6.30pm.

A representative of the group 'Scriptkiddies' said in an interview with Stony Brook University's Think Magazine: "We are looking to find information about corporations to assist with antisec [a concerted hacker attack on corporate and government security]. Fox News was selected because we figured their security would be just as much of a joke as their reporting."

He warned too that Fox News might see more attacks: "I've looked into their security, and site defacement does not seem to be an option. Everything else is fair game."

The Script Kiddies representative added: "I would consider us to be close in relation [to Anonymous], two of the members of our group were members of Anonymous … I was a member of Anonymous. We hope to be working with them soon."